Being a furniture guy you would think that I would have noticed the awesome furniture on the set of Mad-Men, but I didn't until I cam across this article: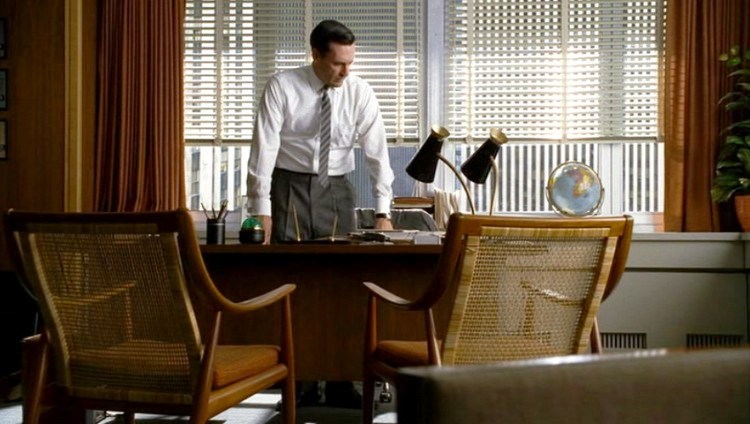 I am guilty of this and I am sure many others out there are as well! My wife enjoys the storyline of the hit AMC television series "Mad Men," but I scan the screen for period items that coincide with the correct years of production, country of manufacture, scarcity and condition.
I must say, the set design crew for Mad Men is spot-on when it comes to the above mentioned concerns. Not that it would bother most people, but for others who know the subject, it can be infuriating! For example, in the 2002 Leonardo DeCaprio movie "Catch Me If You Can," there is a scene in which many Eames Aluminum Group office chairs are placed around a large conference table. This scene takes place in the late 1960s or early 1970s. But, the chairs are the five-legged versions which were not produced until the 1980s, when OSHA required four-star rolling office chair designs altered to have a fifth leg added for more stability. A little bit of trivia there for you MCM nerds.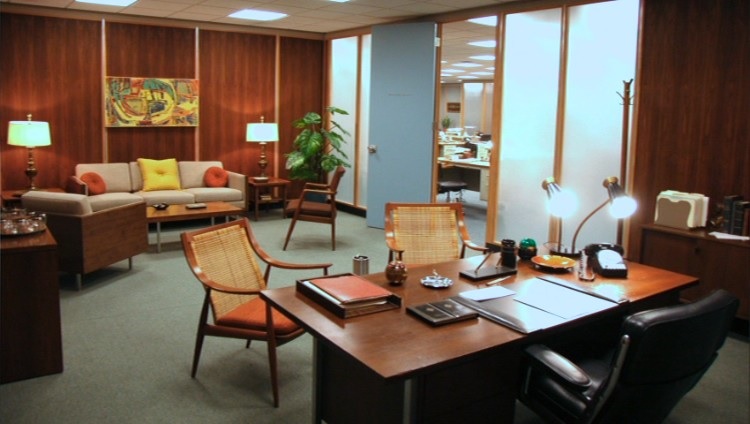 Buck back to Mad-Men… One of the main things I noticed as to the show's attention to detail was in the office of the Lane Pryce, played by British character actor Jared Harris. His office was decorated with teak furniture from the period and, interestingly enough, it was pretty much all produced by a U.K. company called G-plan. It produced Scandinavian-styled furniture with a British flair.
This attention to detail is also conveyed as a glimpse into each character's personality, and this is noticed most of all with the office of the character Roger Sterling (John Slatterly). His office furnishings scream "cutting edge," "space age," "mod," "look at me" and "ahead of its time," much like Sterling himself. Then, in complete contrast, you move into the "Zen" style Asian-modern décor of Bertram Cooper's office (Robert Morse). This Asian-style of decorating was very popular during this time period, as it went well with other types of furniture and the art and study of "Feng-Shui" was very much an intriguing concept to many Americans.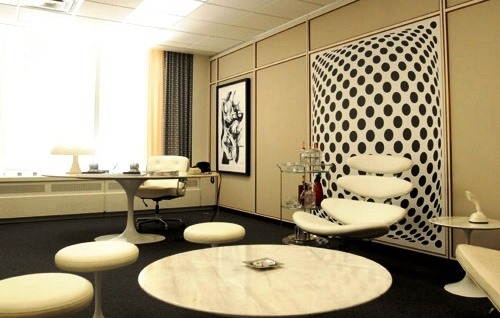 The apartment home of main characters Don and Megan Draper (John Hamm, Jessica Paré) is amazingly decorated and offers a bit of variety. For example, in the main living area, you are surrounded by warm teak, walnut and upholstered furnishings, but in the center of the room you have an elegant coffee table of brass, steel and glass produced by Maison Jansen of France. This coffee table seems to stand out in certain scenes like a sore thumb, but I think it's just another example of decorating detail, as that table could be a small portion of Megan's personality trying to push through the masculinity and control of a man's environment during the 1960s.
In just about every shot filmed inside their apartment you will notice a set of really interesting bar stools with a Danish style and quality. Those stools were designed by Erik Buck for Oddense Maskinsnedkeri of Denmark, circa 1964, and that design has grown very popular over the past few years, so prices have gone up. But, this stool design was produced well into the 1980s, so finding a set for yourself isn't that hard to do, especially when hunting online.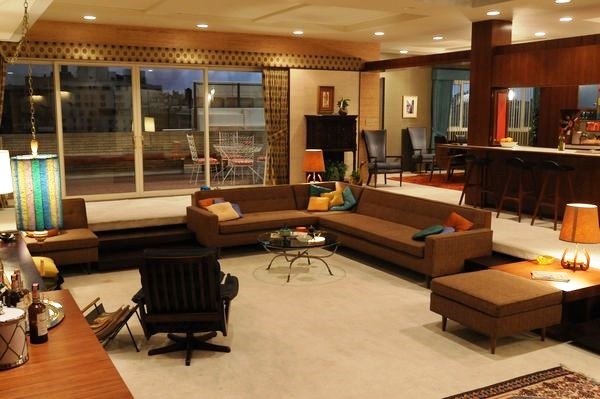 Next time you watch the show, focus on the attention to detail when it comes to the set design. It's impressive on this scale! See anything you want but don't know who the designer or manufacturer is? Then post about it here! Either I or someone out there can possibly help you learn more about a prop or design item in the television program.
It's nice to see such an accurate attention to detail and caring for set design within a television series. From the George Nelson fixtures and Florence Knoll desks to the Eames chairs and Louis Kalff lighting, "Mad Men" is worth checking out for the props and furnishings alone!
Until Next Time – Dan @ Wood Menders
---
Bradley Downs is a Worthologist who specializes in Mid-century modern furniture and the owner of Odd 2 Mod in Atlanta, Ga. You can e-mail him at odd2modauctions@earthlink.net.
Article Link: http://www.worthpoint.com/blog-entry/who-watches-mad-men-check-cool-furnishings